Få en Terapeut Uddannelse indenfor BIORESONANS
Bliv e-Lybra 9 terapeut og hjælp dig selv og dine klienter med fremtidens måde at behandle og teste på.
Praktisk INFO
Du får 2 dages bioresonans terapeut uddannelse på klinikken i Virum, hvor du bliver oplært i at bruge systemet, så du kan scanne, teste og behandle din klienter med frekvenser.
Du får FAGLIGT STÆRK support i en fælles international engelsk gruppe på FB. Du kommer ind i den efter 2 måneder, hvor du har brugt systemet på din klinik og er blevet fortroligt med at komme rundt i alle de spændende og effektive programmer E-lybra 9 indeholder
Du får et e-Lybra 9 system incl.alt tilbehør (elektroder, videoer, pendants til at kode, quantum star)
Pris er 95995 kr excl.moms (Incl.moms 119.995 kr). Systemet tillægges en forsikret forsendelse fra UK til DK – pris dkr 2500 oveni.
Du får The Future treatment that works Holistically og alle muligheder for at hjælpe dine klienter og bygge en fornuftig og flot klinik op.

Det får du
Dit køb af e-Lybra 9 systemet indeholder 2 dages terapeut uddannelse/oplæring og følgende produkter: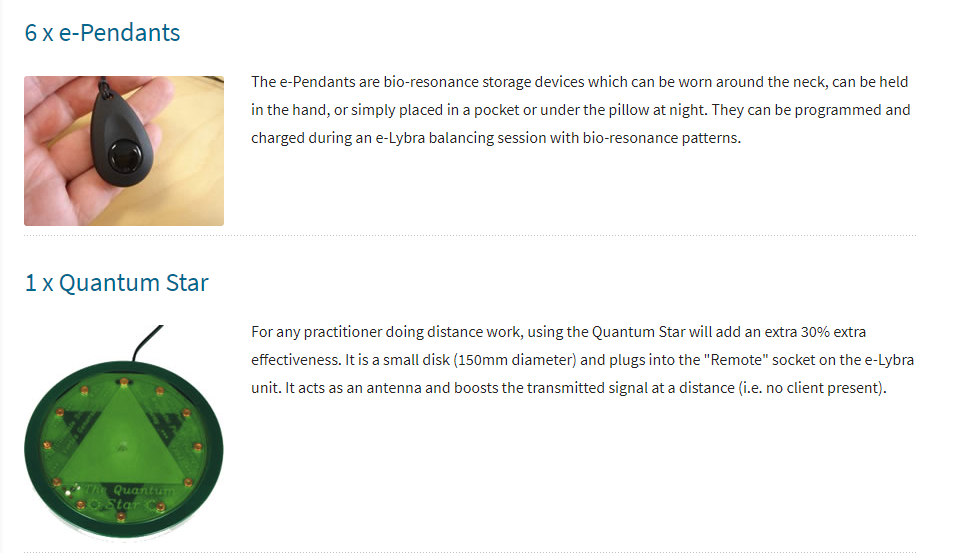 E-Lybra 9 for use by quantum medicine practitioners and also for personal balancing. Our e-Lybra Bio-Field Balancing System is at the forefront of research and innovation into clearing blockages and interferences in the energy fields of the living body in order to promote health and wellness.
Physical body, cognitive processes and energy body systems
Over 330,000 Patterns
Massive database of homeopathic essences and flower remedies, body sections, medical conditions, and much more.
The e-Lybra 9 system is a powerful bioresonance device which is designed to give the practitioner a well-equipped toolset with which to help dissolve underlying energetic imbalances that can result in poor health. Furthermore, it is possible to imprint affirmations onto the energy bodies in order to effect further positive change – such as to improve the body's resistance to electro-magnetic radiation within the environment.
Chakra Balancing
Chakras are important energy focal points within the body and they intereact between the physical, emotional and spiritual aspects of the whole self. Any of these chakras can become blocked, closed or damaged and this will have a detrimental effect upon the whole person. The e-Lybra Chakra Balancing program aims to dissolve blockages and help restore each chakra to healthy functioning.
Psychological and Developmental
Thought forms and beliefs contain an energetic aspect and are often able to gain an anchor point in the psychological make-up of the person. Harmful thoughts like "nobody could ever love me" alter our behaviour and prevent us from acting as our true selves. The e-Lybra 9 system contains a database of several thousand common negative personal belief statements – the e-Lybra has a program to determine which statements have an anchor point within the client and can set about trying to discharge and dissolve them.
Kropsscanning E-Lybra 9

Test og behandling

Test og behandling

Feeling Programmer

E-Lybra 9 systemet